We pass the VAT reduction on as a discount in the shopping cart.
---
Safe
Shopping
Fast
Delivery
Questions ?
+49 (0)2133 210433
var src = "https://www.paypal.com/sdk/js?currency=EUR&client-id=AdoxUd2EvzlL1yiKTj-lJBR2AlosXb0SEhCYuhR7jaFsvptSy04MYN8Pl_1kUquuVkTKZ08pzABx7uqM&components=messages"; if(!document.querySelector('script[src="' + src + '"]')) { var script = document.createElement("script"); script.type = "text/javascript"; script.id = "paypal-installment-banner"; script.src = src; script.rel = "preload"; document.body.appendChild(script); }
Individuell. Exklusiv. Einzigartig.

VIABLUE™ QTC Spikes verhindern die Übertragung störender Schwingungen auf Mobiliar und Flächen
und sorgen so für einen klaren, sauberen und differenzierten Klang.
Die formschönen Spikes sind eine optimale Ergänzung für Lautsprecher und Geräte wie Plattenspieler und Röhrenverstärker.

Elegante Perfektion
200 kg je Set maximale Belastung
2 beschichtete Metallgrundkörper, verbunden mit einem 20 mm Feingewinde
2 mm Höhenverstellung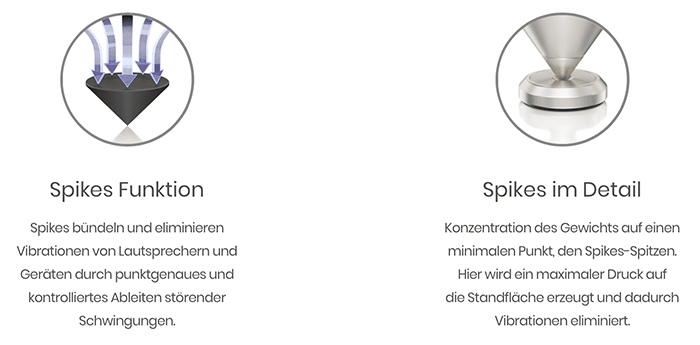 Intelligente Höhenverstellung bis zu 2 mm
VIABLUE™ Höhenverstellung direkt zwischen den Metallgrundkörpern
Leichtgängige Anpassung durch 20 mm Feingewinde
Sehr hohe Stabilität dank großem Gewindedurchmesser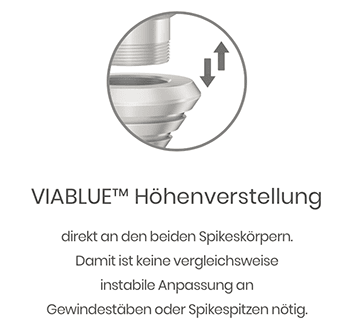 Komfortable Befestigung
Einfache Montage per Verschraubung am Lautsprecher/Gerät mit bestehenden Gewinden
Verschraubung mittels Edelstahlschrauben, -gewindestäben und ggf. Eindrehmuttern, optional erhältlich
Nutzen Sie unser hochwertiges original VIABLUE™ Spikes Zubehör.
Wir empfehlen eine Verschraubung der Spikes.
Eine ausführliche Anleitung und Übersicht über unser Befestigungszubehör bietet der VIABLUE™ Set-Up Guide.
Im Set enthalten
4 QTC Spikes inkl. einschraubbarer und auswechselbarer Edelstahlspitzen
4 QTC Discs, 2-teilige Auflageteller mit Edelstahlinlay, Ø 16 mm
4 Diameter Decreaser Edelstahl zur Verwendung von M6- und Holzschrauben
Technische Details
Artikelgewicht 580 g
Gewicht inkl. Verpackung 670 g
Höhenverstellung Gesamthöhe 47,5 €" 49,5 mm
Maximaler Ø 35 mm